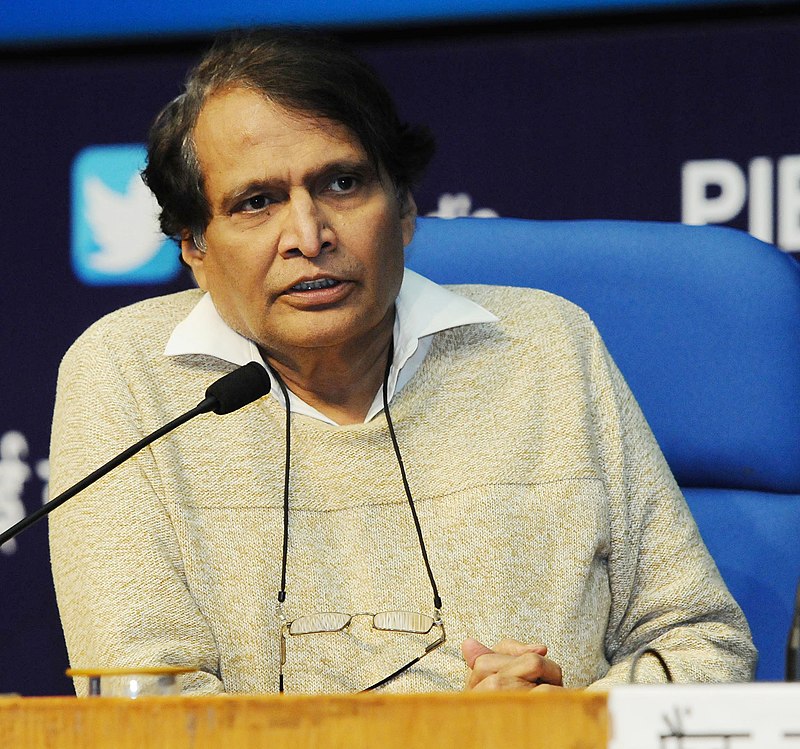 Ministry of Finance responded on pending RoDTEP rate issue of Textile Exporters raised by Former Union Commerce Minister Shri Suresh Prabhu
The Home Textile Exporters' Welfare Association (HEWA)is a nonprofit association of small and medium Indian Home Textile Exporters working for the well being of small and medium sized exporters.
HEWA delegation met India's G20 & G7 Sherpa Former Union Minister of Commerce Shri Suresh P. Prabhu regarding non declaration of RoDTEP rates and sudden stoppage of RoSCTL, Shri Prabhu gave a keen hearing to the whole matter regarding non declaration of RoDTEP rates and raised the issue immediately before Union Finance Minister Smt. Nirmala Sitaraman by writing letters dated 19.01.2021 and 10.03.2021 and also forwarded copies of the HEWA's representation to Union Minister of Textile Smt. Smriti Zubin Irani and Minister of Commerce and Industry Sh. Piyush Goyal. Copies of the abovesaid two letters were also forwarded to HEWA.
Replying to a letter of Sh. Suresh Prabhu sent to Hon'ble Finance Minister, the Minister of State for Finance and Corporate Affairs Sh. Anurag Thakur has stated that he has received HEWA's above said representation dated 10.03.2021, wherein the HEWA has urged for early declaration of RoDTEP rates (at par with RoSCTL without any budgetary constraints). In his letter dated 26.03.2021, Mr. Thakur has stated that he has forwarded the representation of HEWA to the concerned Ministry/Department for consideration and necessary action as per extant rules.
As it is well known that the rates for remission (embeded tax refunds) under the RoDTEP scheme are yet to be notified by Government of India. It was earlier announced that all benefits availed by exporters under the RoSCTL scheme will be curtailed w.e.f. 01.01.2021. Whereas as in a contradictory Gazette Notification №36/2020 dated 05.10.2020 released by Ministry of Finance, an assurance was given to the Indian Exporters that "RoSCTL scheme will be available to the exporters till 31.03.2021 or until such date the RoSCTL scheme is merged with the (RoDTEP) Remission of Duties and Taxes on Exported Products scheme, whichever is earlier".
In present scenario the Indian Textile Exporters are not in a position to quote competitive rates to foreign buyers to fetch new orders. They are also finding it difficult to complete the their existing orders as those orders were procured keeping in mind that government will refund various embedded taxes (in the shape of RoSCTL) already paid by Exporters.
Whereas textile exporters from Bangladesh, Pakistan and Vietnam etc. are availing duty advantage upto 10% on account of various FTAs (Free Trade Agreements) and Preferential Access among the key trading nations.
HEWA has received several letters from various textile exporters from all over India wherein they have narrated their hardships being suffered by them during Corona-19 Pandemic due to lockdown in all most in all major markets world over. During the period when Indian Textile exporters were facing order cancellations, the first release of RoSCTL refund during October 2020 was the main booster for Indian Textile Industry to survive. The release of RoSCTL refund was resultant of long drawn effort of HEWA.
As Indian Textile industry is labour intensive and due to adherence of Post Corona protocols of social distancing, massive surge in cotton yarn rates, rise in fuel, local logistics and shipping freight, the cost of textile production has increased many folds due to which Indian Textile Exporter is not in a position to sustain in the market. They are finding it difficult to quote competitive rates in foreign markets. This stalmate can not be resolved until and unless Indian Textile Exporter gets full tax refunds either in the shape of RoSCTL or the RoDTEP upto 8.2% or at a higher rate and that too without any budgetary constraints.
As per the Notification №36/20 Customs, dated 05.10.2020, there was a general perception amongst Indian Exporters that budgetary allocation earmarked for the RoSCTL scheme during F.Y. 2020–21 will continue till 31.03.2021 or to any other such date subsequent to 31.03.2021on which the RoSCTL is merged with RoDTEP at par with the earlier rates of upto 8.2% under RoSCTL.
HEWA also raised the issue of RoDTEP rates declaration before Hon'ble Prime Minister of India Sh. Narendra Modi as well to resolve the matter vide suggestion letter nos. PMOPG/E/2021/0016476 dated 08.01.2021 and PMOPG/E/2021/0106166 dated 19.02.2021 and prayed for his intervention for issuing appropriate direction to the concerned ministry for declaration of RoDTEP rates without any budgetary constraints as soon as possible preferably at par with RoSCTL. A reminder dated 07.04.2021 has also been sent to PMO.
HEWA wrote letters to Ministry of Textile, Ministry of Commerce and HEWA's deligates Anant Srivastava and Vikas Singh Chauhan personally met Textile Secretary (Govt. of India) Mr. Upendra Prashad Singh and urged him for early declaration of RoDTEP rates upto 8.2% on made ups.