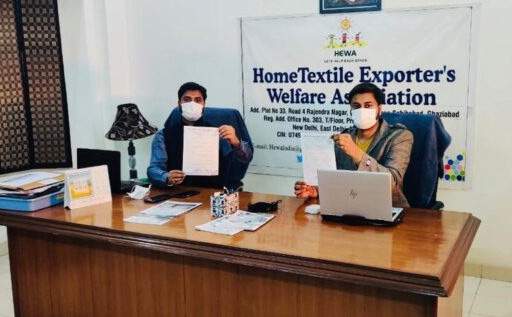 HEWA seeks Hon'ble PM 's Intervention for continuation of (WTO Compliant) RoSCTL scheme till RoDTEP rate notification for achieving targeted goals of employment generation.
With due respect and reverence it is submitted that (HEWA) The Home Textile Exporters' Welfare Association is a nonprofit association of small and medium Indian Home Textile Exporters working for the wellbeing of small and medium sized exporters.
As it is well known that the rates for remission under the RoDTEP scheme are yet to be notified by Government of India, it has also been announced that all benefits availed by exporters under the RoSCTL scheme will be curtailed w.e.f. 01.01.2021.
Whereas as on the other an assurance given to the Indian Exporters by the Ministry of Finance vide its Gazette Notification No. 36/2020 dated 05.10.2020 that "RoSCTL scheme will be available to the exporters till 31.03.2021 or until such date the RoSCTL scheme is merged with the Remission of Duties and Taxes on Exported Products scheme, whichever is earlier".
In the wake of above mentioned Notification No. 36/20 Customs, dated 05.10.2020, there was a general perception amongst Indian Exporters that budgetary allocation earmarked for the RoSCTL scheme during F.Y. 2020-21 will continue till 31.03.2021 or to any other such date prior to 31.03.2021 on which the RoDTEP scheme rates will be notified.
With folded hands it is brought to your kind notice that till today that is 19.02.2021, approx two months have elapsed since the declaration of the RoDTEP scheme and the rates of its remission of are yet to be notified by Government Whereas on the other hand the RoSCTL scheme has been stopped w.e.f.01.01.2021.
Indian Home Textile Exporters are still in a state of dilemma as their earlier suggestion PMOPG/E/2021/0016476 dated 08.01.2021 has not been resolved till date. The rates of RoDTEP are yet to be notified by competent authority. In the wake of circumstances quoted earlier, the HEWA, on behalf of small and medium textile exporters once again humbly pray before Hon'ble Prime Minister of India Shri. Narendra Ji Modi's intervention for issuing appropriate direction to the concerned ministry for declaration of RoDTEP rates without any budgetary constraints as soon as possible preferably at par with RoSCTL.
The Indian Textile Industry is having great potential to fulfill our Respected Prime Minister Narendra Modi Jee's vision of Aatm Nirbhar Bharat and can contribute towards achieving the goal of 5 Trillion Indian Economy by the end of 2025 thereby generating more than 5 Core jobs.
In present scenario the exporters are not in a position to quote competitive rates to foreign buyers to fetch new orders. They are also finding it difficult to complete the previous orders as they were obtained keeping in mind that government will refund various embedded taxes already paid by the Exporters to the Government in the shape of RoSCTL. Whereas textile exporters from Bangladesh, Pakistan and Vietnam etc. are availing duty advantage upto 10% on account of various FTAs and Preferential Access among the key trading nations.